Gift Deed – Section 122 the Transfer of Property act 1882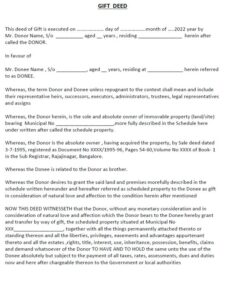 Gift is the transfer of certain property in possession movable or immovable property made voluntarily and without any consideration by the person who is called the donor  to another called the doner and accepted by or the behalf of the donee. The acceptance should be made during the lifetime of the donor and while he is still capable of giving . If the donor dies before acceptance , the gift is void. The gift deed or the gift between the blood relations such as parents and childrens.
Childrens and Parents
Husband & Wife
Grand Parents
Siblings
The transfer of property is done outside the family members then its not a deemed as gift deed and the stamp duty will be attracted as the conveyance. The gift deed also has to be registered in the sub registrar's office with the grant specified stamp duty.
For Drafting of Gift Deed and Gift Deed
Registration Call Us at +91 98869 42117