Encumbrance Certificate (EC) in Bengaluru
Encumbrance
– a mortgage or other claim on property or assets.
An encumbrance refers to any charge created on any asset, more often used in the context of real estate.
An Encumbrance Certificate or EC is a certificate of assurance that the property in question is free from any legal or monetary liability such as a mortgage or an uncleared loan.
Encumbrance Certificate is of capital importance that a homebuyer obtains an EC not only to secure his legal title over the property but also to be eligible to obtain loans from most banks and financial institutions for or against the property.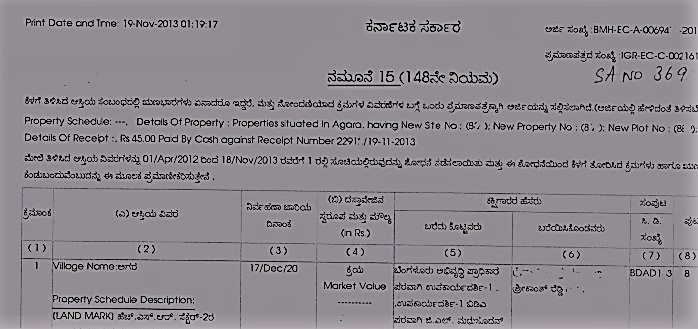 Every document affecting an immovable property has to be registered, so that any person who wants to deal with such property can find out about the encumbrances, legal obligations, rights and ownership of such property; and such registration acts as constructive notice to a person who subsequently acquires such property or any part thereof, or share or interest therein; When a person wants to ascertain whether any transactions have taken place in regard to an immovable property or the particulars of such transaction.
When buying a house, flat or plot, it is important to verify that the property does not have any monetary or legal dues and EC ensures that there is a complete ownership of the property without any monetary or legal liability. The EC is necessary for those applying for a home loan or obtaining a loan against property or when one wants to sell or buy a property.
"Encumbrance" means the liabilities created on a particular property, whereby it is owner, which has not been discharged as on date. An EC contains all the transactions registered relating to a particular property for a certain period (as required). These details also consist any claims or encumbrance on the property. Government authorities and financial institutions like house usually demand 10-20 years of encumbrances.
However, you can also ask for upto 30 years encumbrance certificate to be checked if you still have doubts, you can take a possession certificate of the ownership of the particular land, which is available in the village office.
Encumbrance Certificate (EC) : Frequently Asked Questions (FAQ)